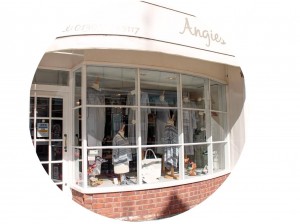 Angie's of Budleigh
A luxury fashion and lifestyle boutique, a haven of delectable delights for you to come and enjoy.
Angie's has created a unique form of shopping – the chance to escape the frenzy of everyday living for a civilised haven. Angie's is a place to relax, unwind and browse, somewhere you can come and spoil yourself, and others, with things that are beautiful, inspiring and unique.
Everywhere you look at Angie's there are gorgeous treats and gifts. We source collections from all round the world and because we are finding new things all the time with each visit you never know what you might find.
Shopping at Angie's is like shopping in the personalised atmosphere of someone else's home: chandeliers hanging from the ceilings, antique style furniture, luxurious soft deep wool carpeting underfoot. We wanted to create a sumptuous home from home.
We offer smart co-ordinates for day wear, casual wear for weekends, special occasion wear for event dressing and breathtaking outfits for evening wear, not to mention our fabulous, glamorous yet wearable sandals, fun and comfy ballerinas, softest of Italian leather long and short boots, leather and suede loafers, lovely statement pieces and more delicate costume jewellery, designer leather belts, silk and cashmere scarves, contemporary handbags and, being just a stone's throw from the sea, an irresistible range of fun beach bags.
We want to transport you into another world, a kinder, gentler place where you can not only let your hair down and slip off your shoes as well. Well renowned for relaxed and friendly atmosphere as well as our own in-house fitting service.
Angie's is more than just a boutique – it is a completely unique experience, somewhere you can feel fabulous and pampered.